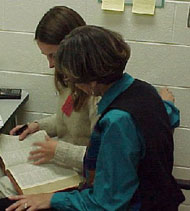 The Communication Disorders Clinic provides services to the Foothills Correctional Institution.
It is the Mission of the Foothills Correctional Institution Education Department to provide the students who are involved in the education program the opportunity, encouragement, and educational experiences which will enhance their chance for success while incarcerated and lead to greater opportunities upon release, thereby reducing the rate of recidivism.
Goals
To help inmates set and reach personal goals for educational opportunities and growth
To assist inmates in obtaining their GEDs
To provide vocational and post GED educational opportunities for inmates which will allow them to develop specific life-enhancing skills
To provide inmates with opportunities to grow as individuals
To encourage inmates to attempt new tasks and to stretch their educational limits
To challenge inmates educationally
To assist inmates in becoming successful in their educational endeavors and goals
To challenge and encourage inmates to overcome setbacks and disappointments in their educational opportunities and through education to grow and develop as individuals in a societal group
To utilize the teaching/learning process to build self-confidence and self-esteem in students
To prepare inmates to meet the challenges they will face upon discharge and thereby reduce recidivism
To provide basic educational tools which will allow inmates, upon discharge, to adjust successfully to the economic, sociological, and cultural dimensions of today's society
To contribute positively to the overall success of Foothills Correctional Institute
Design of the School Program
The staff consists of an Education Director, Division of Prison teachers, Western Piedmont Community College teachers, ESP Coordinator, Guidance Counselor, Educational Psychologist, Librarian, federally funded teachers, contracted speech therapists, secretary, and Programs Correctional Officers
Chapter I teachers and the Exceptional Students Program provide services for students with special needs. There is one ESP teacher who is assigned full-time to students placed in segregation
Classes begin at 8:00 a.m. and end at 3:45 p.m. Classes are 50 minutes each. A school day consists of 7 class periods
Foothills Correctional Institution is supported by the Department of Corrections Educational Services Central Office in Raleigh
The Speech and Language Program functions as an integral part of the Exceptional Students Program in the Education Department at Foothills Correctional Institution. Services are made available to inmates residing in this facility according to state, local, and federal mandates. Complete diagnostic and therapeutic services are provided for inmates who qualify as Speech-Language Impaired, as a primary or related secondary handicapping condition. Services include, but are not limited to:
Hearing screenings, which are administered to each inmate being considered for entry into the education program regardless of eligibility for entry.
Speech and language screenings, which is available to individuals meeting eligibility requirements.
Referral for contracted ENT and audiological evaluations, general medical services, and neurological services through the Western Youth Institute Medical Unit
Diagnostic evaluations as indicated to identify

Voice disorders
Fluency disorders
Auditory conceptualization and phonemic awareness
Phonological disorders
Speech sound production disorders
Language disorders

Individual education planning (IEP)
Speech and language therapy, which is provided to inmates who meet eligibility requirements or who have an active IEP. Identified areas of deficit are addressed according to the inmate's IEP.