Education:
M.S. 2017 Speech-Language Pathology, Appalachian State University
B.A. 2006 English, Appalachian State University
Certification/Licensure:
ASHA Certificate of Clinical Competence, Speech-Language Pathology
NC license, Speech-Language Pathology
Modified Barium Swallowing Impairement Profile (MBSImP™®) Registered Clinician
Specialties:
Swallowing Disorders
Progressive neurological disorders
Evaluation and treatment of acquired neurological disorders (aphasia, cognitive communication impairments, dysphagia)
Patient advocacy and interdisciplinary collaboration
Teaching:
CSD 5561 – Introduction to Clinical Procedures I
CSD 5565 – Clinical Practicum II
CSD 5566 – Clinical Practicum III
CSD 5569 – Clinical Practicum IV
Biography:
Emily Hutelmyer joined the department as a Clinical Educator in 2021. Emily completed her undergraduate and graduate degrees at Appalachian State University. She completed her internship at Wake Forest Baptist Medical Center in acute care. After completing her clinical fellowship in a skilled nursing facility, she began working in home health serving the High Country and surrounding counties. Emily now works in acute care at Watauga Medical Center where she provides speech-language pathology services to adult and geriatric populations. Emily is passionate about her work and dedicated to providing patient-centered care. She enjoys introducing graduate student clinicians to the exciting world of medical speech-language pathology.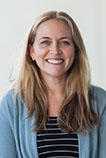 Title:

Clinical Educator, Speech Language Pathology
Department:

Department of Communication Sciences and Disorders

Email address: Email me
Office address
Watauga Medical Center, ARHS