Thomas O. Eller Preschool Language Classroom

The Preschool Language Classroom (PLC) is a half-day program at Appalachian State University that serves to provide an inclusive environment for young children to develop their communication skills to the fullest potential. The PLC is located in our University Hall Clinic. In addition to serving families in our local community, the PLC is a practicum training site for speech-language pathology graduate students to gain clinical experience working with young children who have a variety of communication skills and needs. Children also benefit from a small class size and high adult-to-child ratio in a language-rich, supportive setting.
Schedule
Our daily schedule includes activities such as shared reading, arts and crafts, and sensory exploration, as well as center-based free play, snack, and outdoor play. Each activity is designed to promote communication and peer interaction with an emphasis on expressive and receptive language and early literacy skills.
The PLC follows the university calendar and children may enroll in Fall, Spring, and/or Summer sessions. Hours of operation are Monday – Thursday from 8:30am – 12:00pm and children may attend 2 or 4 days per week.
Who can attend the PLC?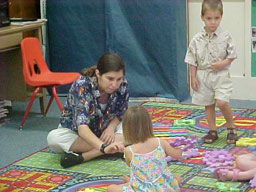 The PLC is for children between 2.5 and 5 years of age. We welcome children with communication delays or disorders as well as typically developing children.
Eligible children also receive individual clinical services at the PLC with a licensed speech-language pathologist and graduate student clinicians. A plan of care is developed for each child to address speech-language therapy goals.
Fees
The cost to attend the PLC is $15/day per child. Clinical services, including speech-language therapy for eligible children, are billed separately through the Communication Disorders Clinic.
Enrollment/ Questions
If you are interested in enrolling your child in the PLC, or would like more information, please contact PLC Coordinator, Emily Rose, at 828-262-6070 or roseem1@appstate.edu